CK Life Sciences' pharmaceutical R&D is focused primarily on cancer vaccines and pain management. Our research is conducted at in-house laboratories, as well as in conjunction with partner companies and academic institutions around the world.
Two of our drug candidates are currently in advanced stages of clinical development in North America:
Seviprotimut-L, a therapeutic vaccine for the treatment of melanoma, is being developed by Polynoma LLC.
Halneuron™, a non-addictive, non-opioid analgesic based on tetrodotoxin ("TTX"), is being developed by WEX Pharmaceuticals.
---
Cancer Vaccines R&D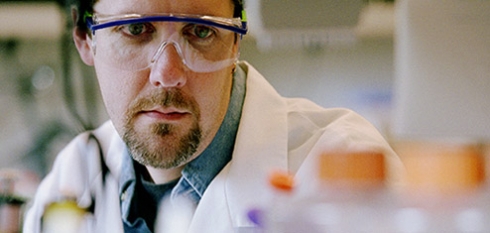 Melanoma
Seviprotimut-L is a melanoma cancer vaccine being developed by Polynoma LLC ("Polynoma"), an oncology-focused subsidiary of CK Life Sciences based in San Diego, United States. Seviprotimut-L is made up of multiple melanoma-associated antigens derived from three melanoma cancer cell lines, and works by triggering antigen-specific anti-tumour immune responses in melanoma patients.
In the ongoing Phase III clinical trial, seviprotimut-L is being tested for the adjuvant treatment of patients with Stage II and Stage III melanoma to delay recurrence after the melanoma has been resected. To date, melanoma remains an unmet medical need, as currently-approved therapies have significant toxicity and the risk/ benefit ratio may not justify the use of these therapies in patients with earlier stages of melanoma. There is at present no vaccine approved for the adjuvant treatment of melanoma.
Results from the data analysis of the ongoing clinical trial of seviprotimut-L were encouraging, suggesting enhanced recurrence-free survival (RFS) among those with Stage IIB/IIC melanoma, as well as those under the age of 60. Seviprotimut-L was well-tolerated with adverse events similar to patients given placebo. This data was presented at the 2019 Society for Immunotherapy of Cancer Annual Meeting in the United States and at the American Society of Clinical Oncology's ASCO20 Virtual Scientific Program.
In the second quarter of 2020, Polynoma was granted Fast Track designation by the US Food and Drug Administration ("US FDA") for seviprotimut-L for the adjuvant treatment of post-resection Stage IIB/IIC melanoma patients. Fast Track is designed to facilitate the development and expedite the review of drugs that treat serious or life-threatening conditions as well as fill an unmet medical need. Benefits of Fast Track designation include more frequent communication with the US FDA, a rolling submission of the marketing application, and eligibility for Priority Review and Accelerated Approval, if the relevant criteria are met.
Skin cancer is one of the most commonly diagnosed cancers in the United States and around the world. Amongst the different types of skin cancers, melanoma is the most serious and deadly form. Globally, there are approximately 350,000 cases of melanoma and nearly 60,000 deaths arising from melanoma every year. The global market of melanoma has exceeded US$1 billion, and is projected to continue to grow exponentially over the next 5 years.
For additional information, please visit www.polynoma.com.
Other Cancers
Apart from Polynoma's research on seviprotimut-L for melanoma, CK Life Sciences is employing various different platform technologies to develop vaccines targeting other types of cancers. Leveraging on the learnings and experience gained from developing seviprotimut-L, CK Life Sciences is aiming to progress these into clinical testing in the coming years.
Pain Management R&D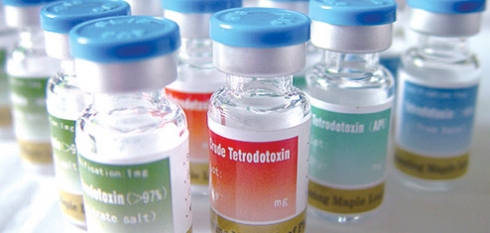 At present, the management of severe cancer pain generally involves the use of morphine and other opiates. This often results in undesirable side effects.
WEX Pharmaceuticals Inc. ("WEX Pharma"), a Canadian subsidiary of CK Life Sciences, is developing Halneuron™, an analgesic based on the puffer fish toxin, tetrodotoxin ("TTX"). Halneuron™ has the advantage of being non-opioid and non-addictive, with quick onset of action and long lasting effects.
Halneuron™ acts by blocking Nav1.7 voltage-gated sodium channels and is potentially a first-in-class drug approved for the treatment of pain. Halneuron™ is being researched as a platform pain management solution that can be used to address many different types of pain. Prospects for such a pain management solution are significant. As an initial indication, WEX Pharma is targeting Halneuron™ to be a treatment for moderate to severe chemotherapy-induced neuropathic pain ("CINP"), a significant unmet medical need.
A Phase III clinical trial of Halneuron™ in the United States and Canada for the treatment of CINP is in the planning stage. The US FDA has allowed the start of the clinical trial of Halneuron™ for CINP under a Special Protocol Assessment (SPA) agreement. The SPA agreement facilitates discussions with the US FDA on product registration, by reducing uncertainty regarding the acceptability of the proposed clinical study design and analytical methods. Health Canada has confirmed no objection to the commencement of the clinical trial.
For additional information, please visit www.wexpharma.com.